Fishing Shuswap Lake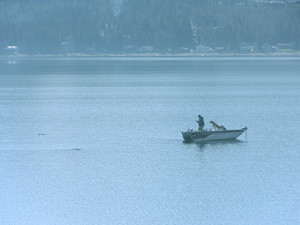 Your cabin at Scotch Creek Cottages makes the perfect base for enjoying the great fishing that Shuswap Lake has to offer.
The Shuswap Lake contains 19 species of native fish including Lake Trout, Rainbow Trout, Bull Trout, Dolley Varden, Steelhead, Whitefish, Kokanee, and Burbot. As well as , four species of Salmon Chinook, Coho, Pink and Sockeye. There are also Sturgeon in the area, Squaw fish and Carp by Salmon Arm. the nearby White Lake is also one of the to rated North American Rainbow Trout fishing lakes.
Fishing boats are available from some of the nearby marinas and Scotch Creek Cottages is also very well set up for boat use if you are bringing your own boat.
Our pedal driven Hobie Kayaks are also fairly well suited for getting out on the lake for fishing along the shoreline areas.
Many of our customers have also had fishing fun and success right off our dock.
The Shuswap Lake is deep and the fish can be big so heavier gear is reccommended, many fishermen have success with the use of downrigging type of gear.
The numerous rivers and streams which flow in to Shuswap Lake are also a mecca for fishing. Fly fishing for trout is often popular in these areas.
Be sure to check out BC Ministry of Environment website for best seasonal information on rules and regulations.