Water Trike Rentals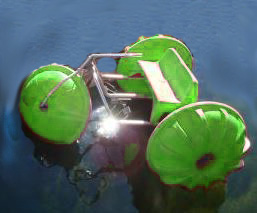 TRIKE RACE TIME!
Skimming over the shimmering lake… you might almost feel that you are walking on water while taking a spin on our new water trikes. Enjoy that floaty feeling on the trikes as you peacefully pedal along. The only sounds will be made by you and your co-pilot, your pleased glee as you feel the freedom of floating on water.
Scotch Creek Cottages has two brightly, if slightly mismatched, water trikes. They are new to the Cottages and yet in their short residency, they have been well received. Meant for at least two riders at a time, groups have rented both and gone out for a leisurely ride in a caravan. Alternatively, rent one and let your group take turns going out on the lake!
The Aqua trikes are very stable, in fact no need to get wet, get soaked, unless you want to, that is! Fall off the trike? Now worries, just climb back on!
Rented by the hour, rent one, or go out with friends, and rent two. Challenge your buddies to Trike races! You decide what your game is but know, the name of the game, is to have fun! Ride high on the Shuswap Lake! One more way to enjoy Scotch Creek Cottages and the glorious summer in the Shuswap.
At just $20 per hour, these are one of the most economical waterfront toys. A great way to get out on the water and get a great workout at the same time.
These unique watercraft are a bit of local Scotch Creek history, which we purchased for the resort in 2013. They have been in the Scotch Creek area and used on the Shuswap Lake for many years. People who have stayed in our area many years back may remember using these at the old Pine Grove resort (has since been turned in to condominiums and permanent trailer spots), once located right next to the Shuswap Lake Provincial Campground. Some might also remember renting the water trikes from there.
While certainly not new they are still in good shape and are a great way for older children and teens to have some fun out on the water. They are great for pedaling around out in front of the resort, just floating and enjoying the sun with a different view of the lake.
The water trikes can be a good holiday workout. They fit smaller adults, larger children and teens the best. Larger adults may find them a bit small although even then a nice way to get out and float out on the lake.
We keep these right on the beach at Scotch Creek Cottages so they are there handy and ready to take out on the Shuswap.
As the water trikes are not real fast, it makes them a great way for parents and grandparents to enjoy watching the children and grandchildren having fun on the water out in front of the resort. You can sit out on the end of our great boat dock or in your lawn chair, and feel like you are part of the action. A great family memory for all.
We have two of these so you could add water trike races to the family resort games. Add a new family activity to remember to your lakeside vacation experience at the Shuswap.
Be sure and give these a try at the resort.