Pontoon Boat Rentals
We Now Have Two Pontoon Boats With Room For All To Enjoy The Shuswap Lake
25 Foot Parti Kraft 115 hp
26 Berkshire 200 Hp
25 Foot Parti Kraft Pontoon – 115hp Room For The Whole Group
We are pleased to now be able to offer our guests the option to rent 25′ Parti Kraft pontoon boat right from Scotch Creek Cottages resort. No need to spend your vacation time making multiple trips to get and return a rental. Make the most of your time with the convenience of on-site rentals. This boat has a 13 person or 1870 lb capacity and is a great boat for touring Shuswap Lake.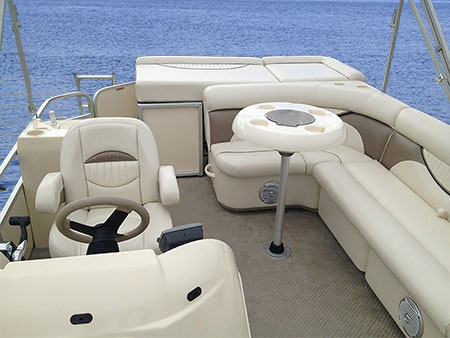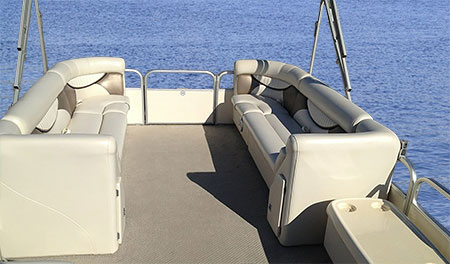 This watercraft has a full double canopy that is capable of covering most of the boat allowing you to get just the amount of Shuswap sunshine you want. Or alternately to protect you from that quick sun-shower, so you don't have to cut your day on the water short unnecessarily.
With 115 Mercury outboard, you can choose whether a lazy laid back time or taking the kids on a bit faster paced Shuswap Lake tube ride is the right activity for the day.
The craft has a great pop-up change room as well that can also be outfitted with optional porta-potty so that you can extend that trip down the lake. All this without having to worry about finding facilities along the way.
26 Foot Berkshire Pontoon – 200 hp – With Room and Speed.
We a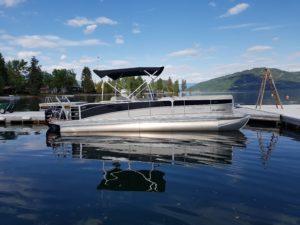 re also pleased to Have also added the faster Berkshire pontoon boat to our rental fleet in 2017. With 200 hp engine and full additional center tube the resulting increased performance makes for a sportier more exiting option for group touring or water sporting on Shuswap Lake. Plenty of convenient storage including large in floor board locker maximizes room on the boat. 16 Person maximum capacity so more can enjoy being out on the lake.
With a Bimini Top for the rear area of the boat occupants can choose thesun or the shade.
With 200 horse power outboard, this boat is capable of pulling adult water skiers or Wake boarders with ease. The convenient rear deck and tow bar make setup for water sports a snap.
Luxurious rear facing loungers are a major feature of Berkshire's water sport minded pontoon. Spot your skiers or tube riders as you ride in Reclined luxury.
There is also a pop-up change hoop on board so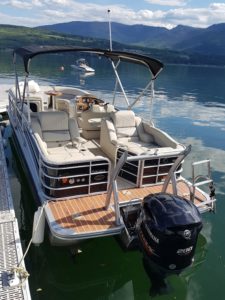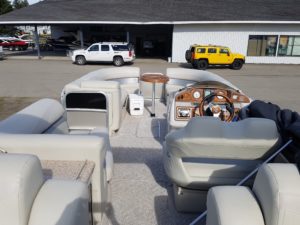 you can change your activity attire on the water.
The table below shows rates on our pontoon boats and boating accessories for various time periods. Please feel free to contact us if you have additional requirements. For further information and availability, please call our toll-free number 1- 800- 979-3599 or 1 250 955-0080.
2018 Season Pontoon Boat Rental Rates at Scotch Creek Cottages
Note: Swipe table side-to-side to see more

Rental Length
25′ Parti Kraft

Pontoon Boat

115 hp


26′ Berkshire

Pontoon Boat

200 hp

Small Tube
(Single Seat)
Large Tube
(2 or 3 Seats)
Child Skis
(w/o Boat Rental)
Child Skis
(w/ boat rental)
Wake
Boards
Deluxe
Knee Boards
Weekly
$2,470
$2,890
$90
$110
$90
$60
$190
$70
6 Consecutive Days
$2,220
$2,580
$80
$100
$80
$55
$160
$65
5 Consecutive Days
$1,960
$2,270
$70
$90
$70
$50
$140
$60
4 Consecutive Days
$1700
$1,960
$60
$80
$60
$50
$120
$55
3 Consecutive Days
$1,440
$1,650
$50
$70
$50
$40
$100
$50
2 Consecutive Days
$1,030
$1,190
$40
$60
$40
$30
$80
$40
1 Day (8 Hour)
$600
$700
$30
$40
$30
$20
$50
$30
Prop replacement
$300
$300
–
–
–
–
–
–
Prop repair
$150
$150
–
–
–
–
–
–
Pontoon Boats offer space and stability to accommodate larger numbers of boat enthusiasts. Our Pontoon Boats are the perfect boat for your clan if you enjoy open spaces, lots of storage, superior stability and luxurious seating. With the deck sitting higher over the water than the floor of our ski boat or wake-board boats, the pontoon boat deck is closer to flush with the top surface of the docks, so access is easier, this often appreciated by the grandparents.
Serving a variety of Uses, our pontoon boats allow you the freedom to cast a line, read a book or just sit back, put your feet up and enjoy the sunset from the water! On our pontoon boats, younger families can enjoy the ride knowing that smaller boaters have a secure place to cuddle with mom or move about safely when docked. This all with thanks to "play pen-like" side rails and its extra-large deck.
Enjoy the extra natural Shuswap Lake with miles and miles of undisturbed natural shoreline or check out the other areas with beautiful lake front homes.
Top it all off with a sunset dinner at a lakefront restaurant and a lazy 10-minute warm summer jaunt back to the resort.
Prices are subject to change; please confirm prices at the time of booking. GST and PST Taxes are extra.
To Reserve Your Boat Today:
1 800 979-3599
Email: info@shuswap.ca
Maximum occupancy of boats is 8 persons
Boat rental includes:
Mandatory Insurance and use of the following additional equipment: key, up to 15 Canadian approved flotation devices (sizes selected on initial pickup), safety kit, paddle, boat cover tarpaulins bow mooring rope, 2 docking ropes, 2 bumpers, stern light post and fire extinguisher.
It will be your responsibility to assure that all occupants of boat have proper size of Canadian approved flotation devices.
Sorry No Pets In Boats, on grounds, or docks at Scotch Creek Cottages
Booking Deposit Requirements
At time of Booking $500. Balance due 65 days Prior to arrival including G.S.T. & PST Taxes . Payment by Visa, Master Card or cheque if received before payment due date. On location bookings or payments may be also be made by debit during office hours in season.
Damage Deposit Requirements:
Imprinted, signed, open value, Visa or Master card during rental period to cover damage refueling fees or lost items.
Boat Rental Cancellation Policy:
$500 cancellation fee charged on cancellations with 35 or more days notice. Bookings canceled with less than 35 days notice will be charged full rental amount unless boat can be re-booked. If the boat can be re-booked for all or a portion of initial rental dates, cancellation fee will be the difference between initial rental amount and the amount paid for re-booked dates. However, a minimum cancellation fee of $500 will always be charged.
Your Hosts: Greg & Cheryl Settle