Shuswap Ski Boat Rental
Malibu Bow Rider Family Boat
We are pleased to offer our guests 19′ Malibu bow rider ski boat right from Scotch Creek Cottages resort. No need to spend your vacation time making multiple trips to get and return a rental. Make the most of your time with the convenience of on-site rentals. This is a great boat for Shuswap Lake with 190 hp that is plenty of power for towing skiers, wake boarders or tube riders.
Shuswap Lake is very large, and this boat has the get-up and go to cover distances at a fairly good pace. To give you an idea of the distances, range of our Malibu boats at speed, etc.; you can travel one way down the main arm of the Shuswap Lake from Scotch Creek Cottages to Cinnemousun Narrows, where the four arms of the Shuswap Lake Join between about 45 minutes to one hour.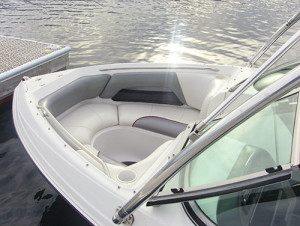 The table below shows rates on our boats and boating accessories for various time periods. Please feel free to contact us if you have additional requirements. For further information and availability, please call our toll-free number 1- 800- 979-3599 or 1 250 955-0080.
This is a are nice multi-purpose family boat for use on Shuswap Lake
2017 Season Ski Boat Rentals Rates at Scotch Creek Cottages
Note: Swipe table side-to-side to see more

Rental Length

19′ Malibu Bow Rider
Small Tube
(Single Seat)
Large Tube
(2 or 3 Seats)
Child Skis
(w/o Boat Rental)
Child Skis
(w/ boat rental)

Wake Boards

Deluxe Knee Boards
Weekly
$2,400
$90
$110
$90
$60
$190
$70
6 Consecutive Days
$2,150
$80
$100
$80
$55
$160
$65
5 Consecutive Days
$1,900
$70
$90
$70
$50
$140
$60
4 Consecutive Days
$1,650
$60
$80
$60
$50
$120
$55
3 Consecutive Days
$1,400
$50
$70
$50
$40
$100
$50
2 Consecutive Days
$1,000
$40
$60
$40
$30
$80
$40
1 Day
$580
$30
$40
$30
$20
$50
$30
4 Hours
$340
$30
$30
$20
$15
$30
$20
Prop replacement
$320
–
–
–
–
–
–
Prop repair
$150
–
–
–
–
–
–
Prices are subject to change please confirm prices at time of booking. GST and PST Taxes are extra.
To Reserve Your Boat Today:
1 800 979-3599
Email: info@shuswap.ca
Maximum occupancy of boats is 8 persons
Boat rental includes:
Mandatory Insurance and use of the following additional equipment: key, 8 Canadian approved flotation devices (sizes selected on initial pickup), 1 pair of adult skis, ski tow rope, safety kit, paddle, boat cover tarpaulins (2 pieces) c/w bow center post, bow mooring rope, 2 docking ropes, 2 bumpers, 1 stern light post and fire extinguisher.
It will be your responsibility to assure that all occupants of boat have proper size of Canadian approved flotation devices.
Sorry No Pets In Boats, on grounds, or docks at Scotch Creek Cottages
Booking Deposit Requirements
At time of Booking $500. Balance due 65 days Prior to arrival including G.S.T. & PST Taxes . Payment by Visa, Master Card or cheque if received before payment due date. On location bookings or payments may be also be made by debit during office hours in season.
Damage Deposit Requirements:
Imprinted, signed, open value, Visa or Master card during rental period to cover damage refueling fees or lost items.
Boat Rental Cancellation Policy:
Bookings canceled with 35 days or more notice will be charged $500 cancellation fee. Bookings canceled with less than 35 days notice will be charged full rental amount unless boat can be re booked. If boat can be re booked for all or a portion of initial rental dates, cancellation fee will be the difference between initial rental amount and amount paid for re booked dates. However minimum cancellation fee of $500 will always be charged.
Your Hosts: Greg & Cheryl Settle